Will we see Analytics data in Search Console environment? Google tests new feature
Now we are not able to see any Google Analytics data within Search Console. We have only two possibilities – to build our own Data Studio dashboard with both data sources or integrate Google Search Consol with Google Analytics environment. But probably the situation is going to change soon! Google is testing a new feature in Google Search Console called Google Search Console Insights. Users of Search Console get Google Analytics data as:
page views
average time on page
traffic source information
referring sites information
and much more
Officially Google has not announced anything about this new feature and most of us don't see any new report in our accounts (me neither). It's just some kind of test and we hope one day it will be launched. It would be one of the greatest improvement of Google Search Console in last years.
Read more: Search Engine Land
New predictive capabilities in App + Web properties
We meet data-driven methods and machine learning models more and more often. In July Google introduced two new predictive metrics to App + Web properties – Purchase probability and Churn probability. In case your property contains sufficient data, you can see (or will see soon) these two metrics in your report. And what are they about?
The first predicts the likelihood that users who have visited your site or app will purchase in the next seven days. The second one is oposite – it predicts the probability that a user who was active on your site or app within the last 7 days will not be active within the next 7 days.
These metrics give you an opportunity to build very specific custom audiences for your campaigns, to build your own custom segments and much more. We expect more then these two predictive metrics in the future. Time will tell what else will be create by Google developers.
Read more: Google Blog
We know where Data Studio dashboards disappeared from your Google Drive
Did you use Google Drive to open your Data Studio dashboard? If you are a G Suite user, your dashboards probably disappeared in the beginning of July. But don't worry, they are still in your Data Studio environment. It is beacuse of metadata migration out of Google Drive. So what does this mean for you?
Actually nothing. This change doesn't impact or limit use of the Data Studio. Users can continue to share and collaborate in Data Studio as always or in case of a G Suite users, they can control how your users share Data Studio assets via G Suite Admin Console.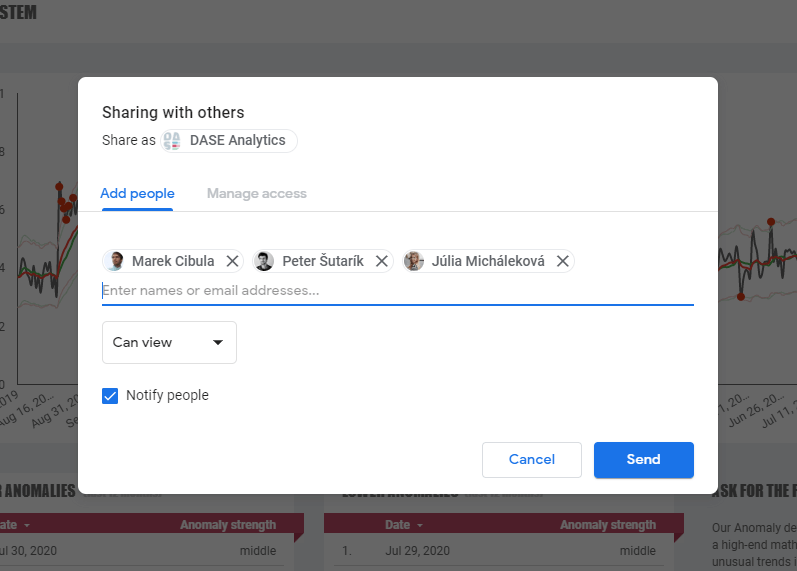 Read more: Google Support
Automatic bot-traffic exclusion in App + Web properties
If you want to exclude bot & spider traffic in Universal Analytics you have to check special checkbox in View settings. From now in App + Web properties, traffic from bots and spiders is automatically excluded. So simply, you don't need to check anything!
Bot traffic is identified and sorted into the International Spiders and Bots List by Google and Interactive Advertising Bureau. If you are interested in this list, visit the IAB website.
Read more: Google Support
Bonus for SEO specialists from John Mueller: How to display charts on your web?
What do you think? What is the best way to how to display charts with data on a web page? Shell we use some fancy HTML charts? Or even Data Studio iframe? Or just charts as images? The answer is always 'It depends', but here you are John Mueller's advice:
In most cases you can use chart as image. It is because the image can gets ranked in Google Images search results as well. But there are several conditions that you must meet – always use understandable alt attribute and add sufficient textual content around the image to further explain what the chart is about.
Read more: Search Engine Journal